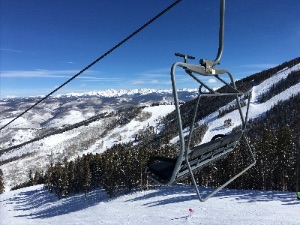 Riding High at Beaver Creek
Did you know that the world's first chairlift opened at Sun Valley in 1936? It was designed by an engineer who adapted a system he had implemented to haul bananas onto United Fruit cargo ships in Central America, swapping the fruit hooks for single chairs!

Skiing and boarding at Vail & Beaver Creek is far removed from those bad old days, but the thrill of flying down the slopes remains one of the best parts of living here. It's been a great snow year, currently 114% of normal with more in the forecast.

Year-end 2018 real estate figures show similar numbers to 2017, surpassing the $2.2 billion mark for the second consecutive year with over 2000 transactions. The average sales price for an Eagle County home was $1.2 million, but (as always) the areas closer to the resorts were significantly higher. Two homes in Vail sold for $23 million and the highest price per square foot was $3095 for a Solaris condominium in Vail Village. A detailed market analysis looks at the 2018 statistics.

January 2019 numbers show that new listings were down for single-family homes or duplexes, but there was an increase in condominiums. For the month, days on market fell 21% while pending sales increased 9%. There were 129 residential sales to date in 2018 with an average price per square foot of $522; this year shows 131 sales at $545/square foot.

The Burton US Open Snowboarding Championships are going on through March 2 at Golden Peak. The size of the jumps and half pipe are formidable and the riders defy gravity. Pink Vail, a skiing fundraiser that benefits the Shaw Cancer Center, is March 16. Go pink or go home.

Please let me know if you have questions about the action on and off the slopes and if I can assist you with any real estate matters. It's a great conversation on a chairlift!