Nothing makes the holidays more fun than snow and we've been getting lots of it! Mid-winter conditions on the hill are keeping everyone happy even though the calendar says it's still fall.
Off-slope activities abound this time of the year, with Nathaniel Rateliff & the Night Sweats performing in a free concert at Ford Park on Friday, December 14, followed by Shakey Graves on Saturday. The annual Vail tree lighting ceremony is December 16 and the Winterfest Ice Theater begins December 23 with ice sculptures and nightly family films on an ice screen. Beaver Creek celebrates with après ski fun and both resorts wrap up the year with a torch-light ski parade and fireworks on December 31.
Real estate continues to perform similarly to last year with 1791 sales through October, almost identical to 2017. As in the past, the majority of Eagle County buyers are locals, while 17% are from the Front Range and 27% are from out of state or other countries. Statistics through October are here: provided by Land Title.
There have been 141 sales since October, nine over $3M with two at the Four Seasons averaging $2367/square foot. There also are 15 homes over $3M under contract with two near $20M and expectations to push the year-end into new territory.
Although some buyers have expressed concern over mortgage rates, historically they are low and expected to stabilize near their current levels. Since owning a home in this beautiful area is both an investment and a lifestyle, most buyers recognize that local real estate should continue to prosper. The chart below shows the rates since 1972, offering a perspective of comparative affordability.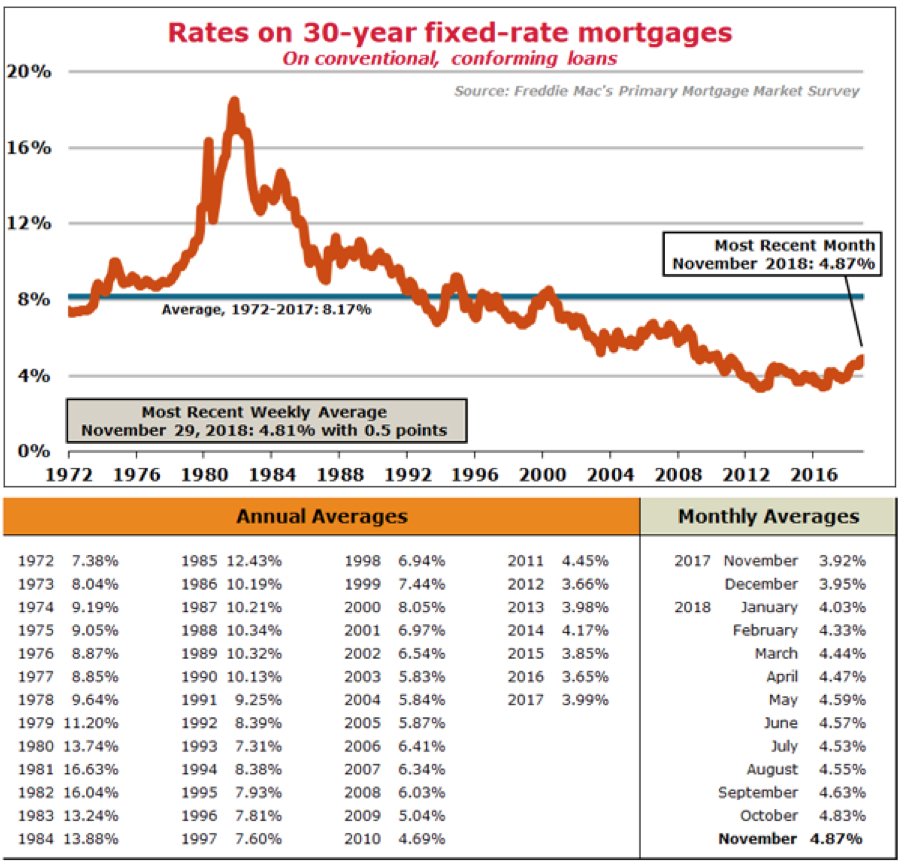 It's my pleasure to help you with any real estate questions and meeting on the slopes is even better! Please don't hesitate to contact me if you need anything or would like to take some turns.
Wishing you and yours wonderful, joyous holidays during this most special time of year.
Merry Christmas, Carolyn
CAROLYN FORD